Fire Risk Assessment
Objective
Fire in any occupancy has severe damages to Property. Fire Risk Assessment is found to be the effective tool for assessing Fire Safety Standards. It helps the people to identify the areas for Improvement and evolve an action plan. This Scope presents the overview of the features and advantages of Fire Risk Assessment.
Work Includes
Identifying the Fire Hazards.
Identifying the sources of Ignition.
Identifying sources of Fuel.
Identifying sources of Oxygen.
Identifying people most at Risk.
Evaluate, remove and Reduce and Protect for Risk.
Reducing the risk of a fire occurring.
Checking Adequacy of Fire Hydrant System, Smoke control and Fire management system.
Review of Fire Escape Facilities.
Review of Building Layout and space/emergency planning for Fire emergency.
Review of Fire pumps and Fire Water Storage, Hydrants, Sprinkler and Fire Extinguisher.
Review of Fire Alarm system and Gas Detectors.
Review of Fire Fighting Training and awareness.
Physical Inspection of all areas with reference to all applicable Indian standards, Central Electrical Authority Regulation and other relevant codes of practice and identifying electrical Fire Hazards.
Reviewing the Roles of electrical Fire Safety in the total Safety systems
Electrical systems checking by means of Thermography.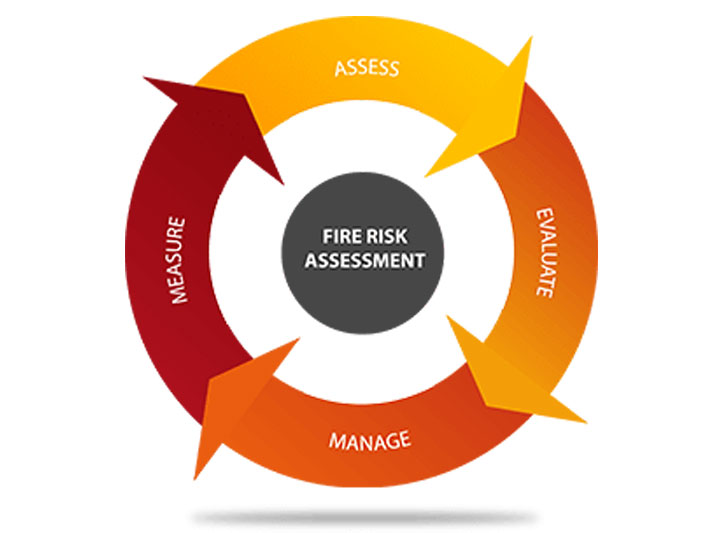 Standard Referred In Our Audit
National Building code of India, 2016
Tamil Nadu Fire Service Rules, 1990
The Tamil Nadu Factories Rule, 1950
Factories Act, 1948
Central Electrical Authority Regulation, 2010
IS 2190
IS 15652
IS 1641
IS 15301