Electricity has great potential to seriously injure and kill. A system should be in place to assess the electrical equipment that is used in your workplace. If the electrical equipment operates in or is affected by a hostile environment it must be regularly inspected and tested and maintained by a competent person. As an employer you are responsible for ensuring the electrical equipment in our workplace is safe and where required regularly inspected, tested and maintained.
Other than the routine safety audits, electrical safety audits should be initiated whenever there are capacity additions and major alterations in the electrical system, frequent electrical accidents, and process change in the plant that may require a re look at the electrical installations in the changed process section. It is recommended that the electrical design review and the implementation should be carried out prior to initiating the exercise of Electrical safety Audit when the above-mentioned changes are planned / observed.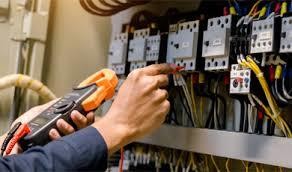 As per Indian electricity Rule 46, all electrical installations are to be inspected with respect to Indian Electricity Regulations with a periodicity not exceedingly once in 5 years by authorized electrical inspecting authorities. Electrical inspectors' inspection and approval is required when the electrical installations are changed (added or modified) as per rule 63.
1.Part of Visual Inspection in Electrical safety Audit
Physical inspection of the plant with reference to applicable Indian standards, Indian Electricity
Rules and other relevant codes of Practice and identifying electrical hazards.
Reviewing the role of electrical safety in the total safety system.
Review of protection devices / system of the electrical installation.
Examination of adequacy of plant lightning protection system as per national standards to suggest recommendations as per applicable standards.
Review of the hazardous area classification carried out in the plant as per IS: 5572 and to review the selection, installation of special electrical equipment as per IS: 5571 to suggest recommendations as per applicable standards.
Review of electrical accidents to identify root cause of the accidents.
Review the Electrical Preventive Maintenance program in the plant and to examine the documentation, checklists, work permit, test records, etc. and to suggest recommendations as per applicable standards.
To identify training needs of the plant employees from the point of view of electrical Safety.
To evaluate the earthing system in the plant based on IS 3043 and to suggest recommendations.
Review of the following test records, evaluating the test results and to suggest recommendations as per applicable standards.
★Transformer oil test.
★Insulation Resistance Tests.
★Earth Resistance tests.
To evaluate the potential electrical fire hazards in the plant electrical installation and to suggest fire protection measures as per applicable standards and Indian Electricity Rules.
To identify the Electro-Static Hazards in the plant and to suggest recommendations as per applicable standards.
Part of electrical safety audit all electrical panel, Motors,Earthing of the Machinery to be checked as per the below Para 2, 3 & 4.
2.Part Of Thermography Checking In Electrical Safety
Objective
Thermal images, or thermograms, are actually visual displays of the amount of infrared energy emitted, transmitted, and reflected by an object. Because there are multiple sources of the infrared energy, it is difficult to get an accurate temperature of an object using this method. A thermal imaging camera is capable of performing algorithms to interpret that data and build an image. Although the image shows the viewer an approximation of the temperature at which the object is operating, the camera is actually using multiple sources of data based on the areas surrounding the object to determine that value rather than detecting the actual temperature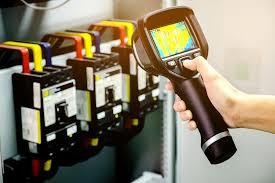 Scope Of Work
Work site evaluation and equipment to categorization.
Checking of materials and components like transformer and electrical connections
Find the broken insulation.
Damaged insulation in cables.
High friction spots in electric motors.
Thermal imaging:
★Connectivity High resistance
★Corroded connections and internal fuse damage.
★Internal circuit breaker faults
★Poor connections and internal damage
Thermal Sensitivity Accuracy
Full Report with recommendation
Following Elements Are Followed During Electrical Safety Audit
1.The details of Service Connection
3.Testing Schedule
5.New Equipment integration
7.Condition of Portable Electrical Equipment
9.Training program
11.Details &review of Electrical Accidents
13.Evaluation of Protective system
15.Back feeding arrangements
17.Evaluation of SOPs
19.DC & Battery system
2.Maintenance work practices
4.Evaluation of work permits system
6.Evaluation of Cable trench/layout
8.PPE & First Aid
10.Compliance of IE Rules and Latest regulations
12.Evaluation of Contractor Safety
14.Compatibility of Electrical Equipment /Interlocking system
16.Lighting arrestors Checking Basic/Testing Records
18.Lighting, illumination & Emergency Lighting
Standards Referred in Audit
Central Electrical Authority Regulation
IS Standard 14489 Guidelines
IS 2190 Guidelines